Latest work. Info coming soon.
The subject of this piece is the wedding. Gulnara juxtaposes her own mother's wedding, immortalized at the city hall in Ufa (while her mother was pregnant), with musicians and dancers from a wedding in the same city captured decades later. Gulnara explains that while the wedding she photographed expresses a spontaneous, joyous moment, her own mother's union was formal and choreographed, including a fake set of silverware used as a prop in official wedding photographs. With this series Gulnara's work shifts from a documentary practice to one that addresses the role of the family in Soviet identity and post-Soviet memory formation. Her work examines the nature of the vernacular image itself within the context of personal and social history. This binding of the social, historical, and the personal within a fine art practice plays out in subtly different yet complementary compositions in "Lost Family."
Untitled from the series 'Lost Family'
Gelatin Silver print, collage, oil paint 1988-2017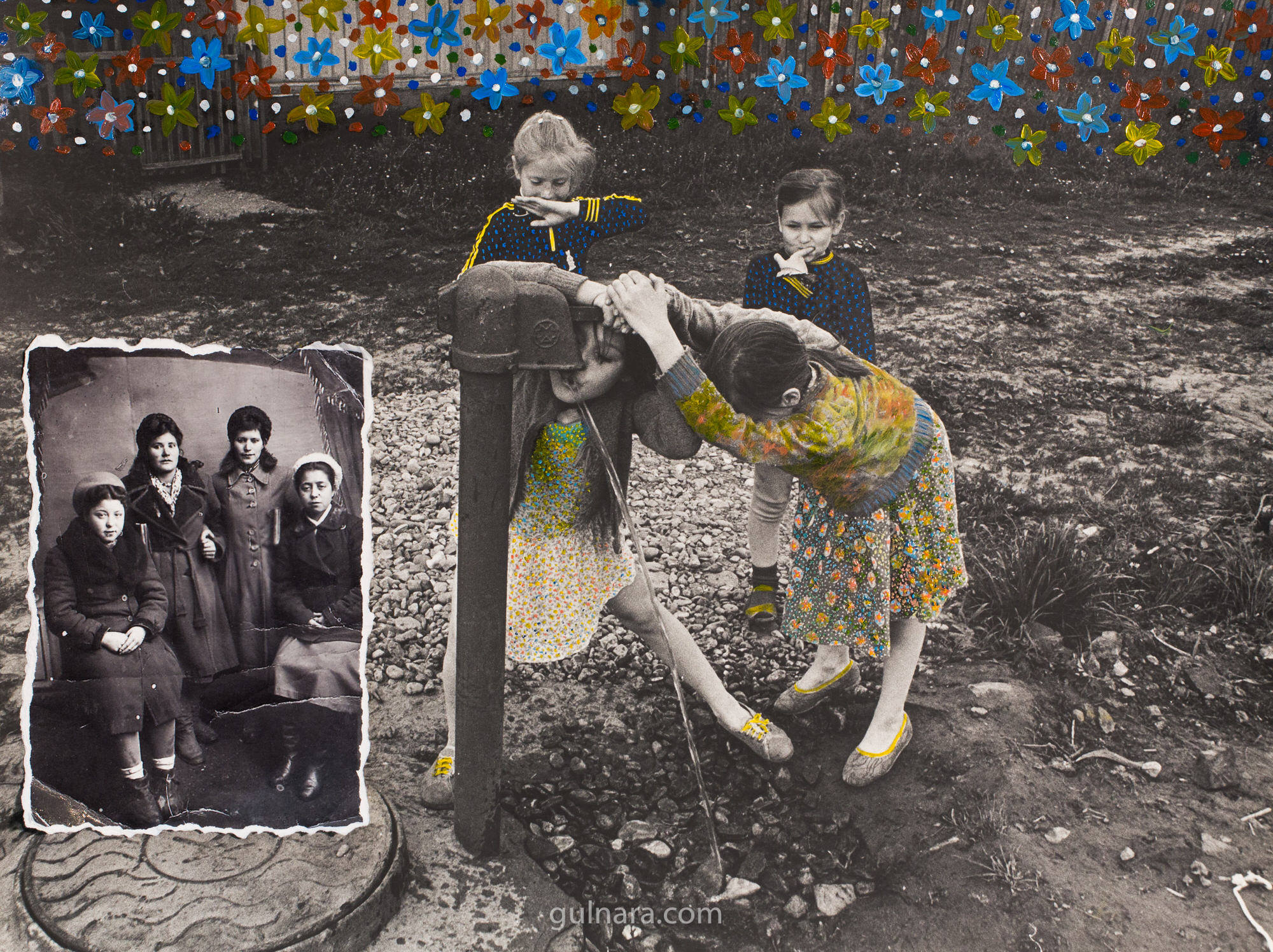 Together with her sisters, Gulnara's grandmother (second from the left) is featured in a small photograph taken in 1947. This older work is collaged together with a more recent photograph of a group of girls happily drinking from a water fountain. Their relaxed and carefree attitudes contrast with the group portrait of the artist's grandmother, where the women appear immobile and grave. Whereas family photographs usually communicate stories of familial unity and integration in line with middle-class aesthetics, Gulnara's photo-collages challenge such a function. Instead, they reflect her own path to come to terms with her family's turbulent history and the memories cultivated by her relatives. The photographs in this series articulate and visualize her multiple identities and her use of the album as a means of interrogating her relationships with her significant others.
Untitled from the series 'Lost Family'
Gelatin Silver print, collage, oil paint 1987-2015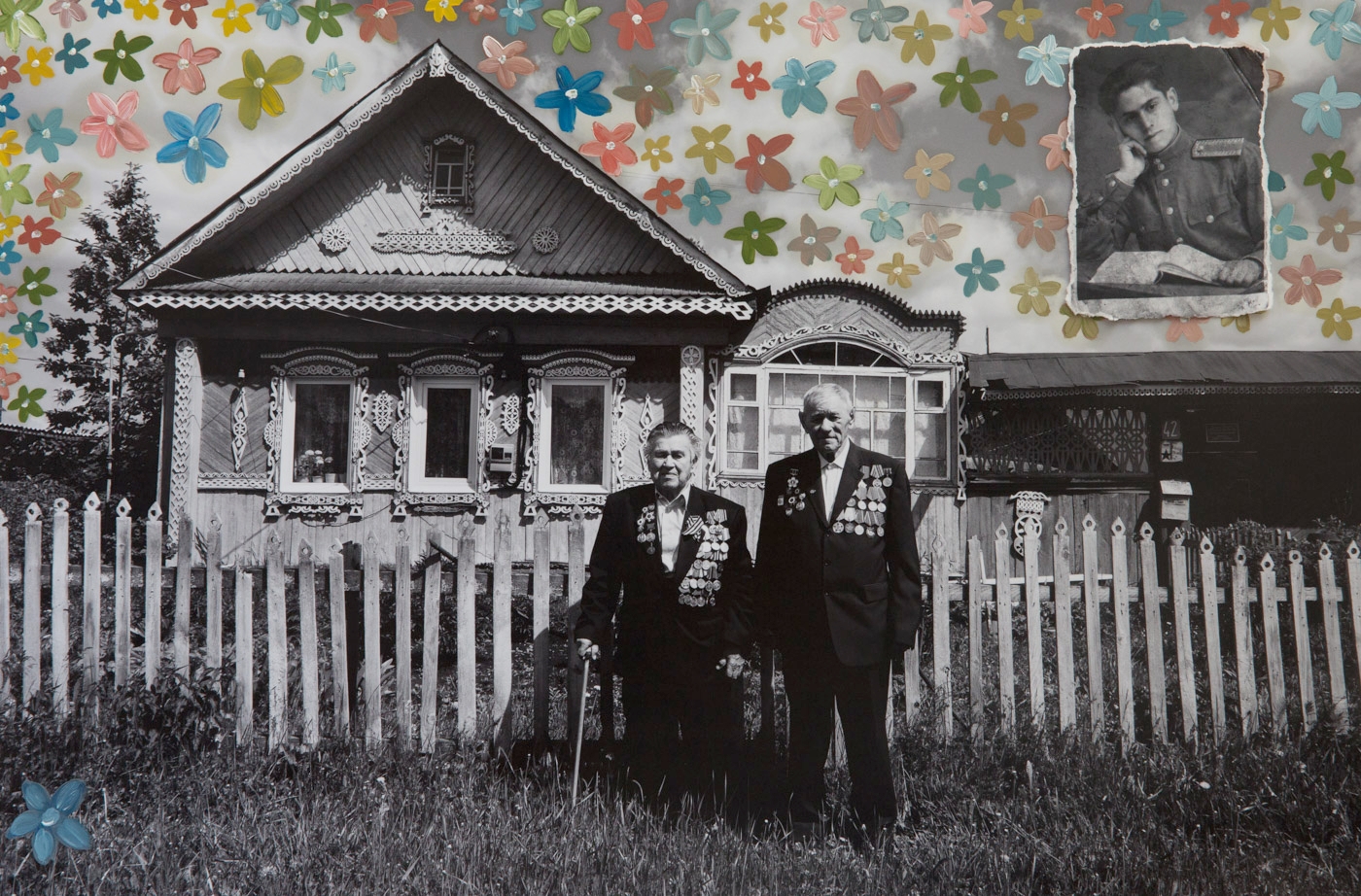 Latest work. Info coming soon.
An elderly woman holding lipstick and wearing a traditional Bashkir dress smiles at the viewer in this elaborate portrait. The artist has overpainted the original photograph with flowers, a reference to her name and that of her mother, and also a symbol of Gulnara's fantasy life. A smaller double-portrait features the artist's mother and her grandmother, who was a serious, somber and withdrawn woman. The artist wishes her grandmother were filled with life like the woman she portrayed in the larger photograph. Connecting the lives of these women who did not know each other, the work links their destinies and opens questions about reality and fantasy, and how we see our loved ones and their own realities. Motived by a desire to retrospectively mend her fractured family biography, Gulnara probes the family's memories. Her series is a historical portrait of a Soviet society in a pre-feminist era and a moving reconstruction of lost family memories.
Untitled from the series 'Lost Family'
Gelatin Silver print, collage, oil paint 1987-2015
Creation of this work was prompted by Gulnara's discovery that her mother had a brother the artist never knew existed. She collaged the small portrait of him together with a larger photograph of friends and coworkers, placing them together at the same table. The artist ponders the implications of finding family members she did not know were related to her. The work is an examination of the ways in which unseen loss may be remembered and represented. Gulnara's photographs focus on the lives of ordinary individuals with whom the viewer is not acquainted, as opposed to major historical figures. They prompt us to reconsider the value of understanding history and society through ordinary people. The ambivalence of both photography and personal memory is central to Gulnara's practice, which explores the nature of the familial gaze as well as wider questions of identity, representation, history, and society.
Untitled from the series 'Lost Family'
Gelatin Silver print, collage, oil paint 1996-2016
This group of sailors was photographed by the artist in her native city Ufa before she left Russia to come to New York in 1992. The photograph portrays the men in their prime, smiling and looking ahead confidently. Gulnara added to the composition the family photograph of her grandfather in his youth, when he served as a pilot in the Soviet Union. The smaller cutoutphotograph is integrated into the group, blurring distinctions between the past and the present. Through this process of association, hidden histories are unveiled by Gulnara's jaunt through her collection of family photographs. As she confronts familial traumas thather mother had repressed for a long time, Gulnara uses family photographs to piece together her grandfather's life. Her work investigates the contemporary relevance of older, found photographs and the hidden histories of family archives and of specific sites. What is our relationship to the past, and what is the value we place on it?
Untitled from the series 'Lost Family'
Gelatin Silver print, collage, oil paint
Four children pose for the camera in a modest backyard. A clothesline, overpainted in rainbow colors, frames the background. The artist also included a photograph of her mother in her youth in color. The artist, an only-child, has expressed the desire to have siblings. In this composition she connects her fantasy with the shabby reality her own mother grew up in. Gulnara's mother and her grandmother, and her relationship with both women, are featured prominently throughout the series, reflecting a complex layering of narratives. "Lost Family" explores the hidden systematic powers of identification within a family constellation through three generations. The artist mixes the past, present and an imagined better future, generating new meanings.
My Mother and Imagined Siblings from the series "Lost Family"
Gelatin Silver print, collage, oil paint, 1992-2016
One of the few works featuring Gulnara's male relatives, this piece brings together the artist's fiancée, Ruslan, and her grandfather. Both men lost their lives tragically, and this loss has left an indelible mark of sorrow on the artist's consciousness. They also eerily resemble each other, so much so that they appear to be the same person photographed at different moments in life. The dynamic composition appears as a frame within a frame, within which the two main characters mirror each other's posture and gaze. In the background, an aphorism in Russian reads "Time to get real" (lit.: "It is time to pick up the stone and throw out the trash"). This representation of the artist's loved ones evolves into an investigation of the limits of memory, the nature of storytelling, the boundaries of art and of the imagination itself.
My Grandfather and Ruslan from the series "Lost Family"Gelatin Silver print, collage, oil paint 1990-2016
This piece is dedicated to Gulnara's relationship with her mother and her childhood. A young girl, whom the artists imagines as a friend who once bullied her, is captured running away from Gulnara's portrait. A portrait of the artist's mother hovers in the left side of the compositions. Flowers painted over the larger photograph connect these disparate portraits. In Gulnara's conception, they represent her fantasy of a better life. She considers her artistic, intellectual and political positions as shaped by both major historical processes occurring during her lifetime (communism, the dissolution of the Soviet Union, the privatization crisis) and by her complex emotional attitudes to her immediate environment (her family and personal relationships). The selves that emerge from the "Lost Family" series are relative to time, history, cultural traditions, and change.
Untitled from the series 'Lost Family'
Pigment fiber print, collage, oil paint 2015-16
The large, background photograph was taken by the artist during a trip to China. Gulnara was struck by how stern and tough the group of men and women appeared. She connected this moment to having her own photograph taken at the age of thirteen. The artist recollects that she was told to smile by the photographer who took her portrait. However, this smile did not appear in the actual print, where she looks grave and severe. This work explores the ways in which photographs often begin as intimate and private images but may be transformed into elements ofa constructed or partial biography, or into sites of public history. Photographic narratives are not fixed, and they form the viewer's starting point for understanding wider issues.
Untitled from the series 'Lost Family'
Pigment fiber print, collage, oil paint 2012-2015
Gulnara took this large-scale photograph depicting a mother smoking while holding her young child during a trip to Cuba. The black and white silhouette is immediately iconic, echoing the pose of a Madonna and child. However, there is no sense of motherly affection between mother and baby here, nor any sanctity usually associated with such a subject. Sitting barefoot on a modest mattress, this mother seems miles away from her child, lost in cigar-clouded thoughts. The rather bleak tableau is completed by a steel pipe gaping out of a black hole in the ceiling, pointing outside of the picture-plane. The artist has superimposed a photograph of herself as a toddler, held high by her mother, who is not visible. This is the only photograph of Gulnara as an infant. Although the young Gulnara is smiling at the viewer from the photograph, there is a similar disconnect between her and her mother, who chose not to have her portrait alongside. Connecting women from different time periods and different contexts--the Soviet Union and contemporary Cuba--the work as a whole speaks of the plight young mothers continue to face when raising a child on their own. The "Lost Family" series is neither a fictional work, nor a purely documentary one, and is at the same time a familial and autobiographic narrative.
Untitled from the series 'Lost Family'
Pigment fiber print, collage, oil paint 2013-16
Latest work. Info coming soon.